Ordway Elementary School Mural Project
Spring, 2018
Ordway Elementary School (Bainbridge Island, WA) hosts a very special Spanish Immersion program called 'El Velero'. Children from K-5 spend time learning the Spanish language along with cultural practices from many Latin countries. This year, we wanted to celebrate the program with a collaborative mural consisting of four large canvas panels measuring 8' x 3'. These were meant to be hung in the classrooms at different times, or for special celebrations.
100 Drawings
We started asking students 'Please draw what you like best about the Spanish Immersion program.'
The results were amazing: 100 drawings of incredible variety, color and style. Students were enthusiastic about so many aspects of the program and eagerly drew, colored and talked about what they enjoyed.
Four Large Panels
The next step was to organize the drawings into four themes, so that they could be placed into a cohesive design on each of the four panels. After some review and organizing, the themes emerged: Learning, Food, Culture and Friends.
Once designed, it was time to reproduce the design with black paint as a simplified drawing on each panel, like a giant coloring book.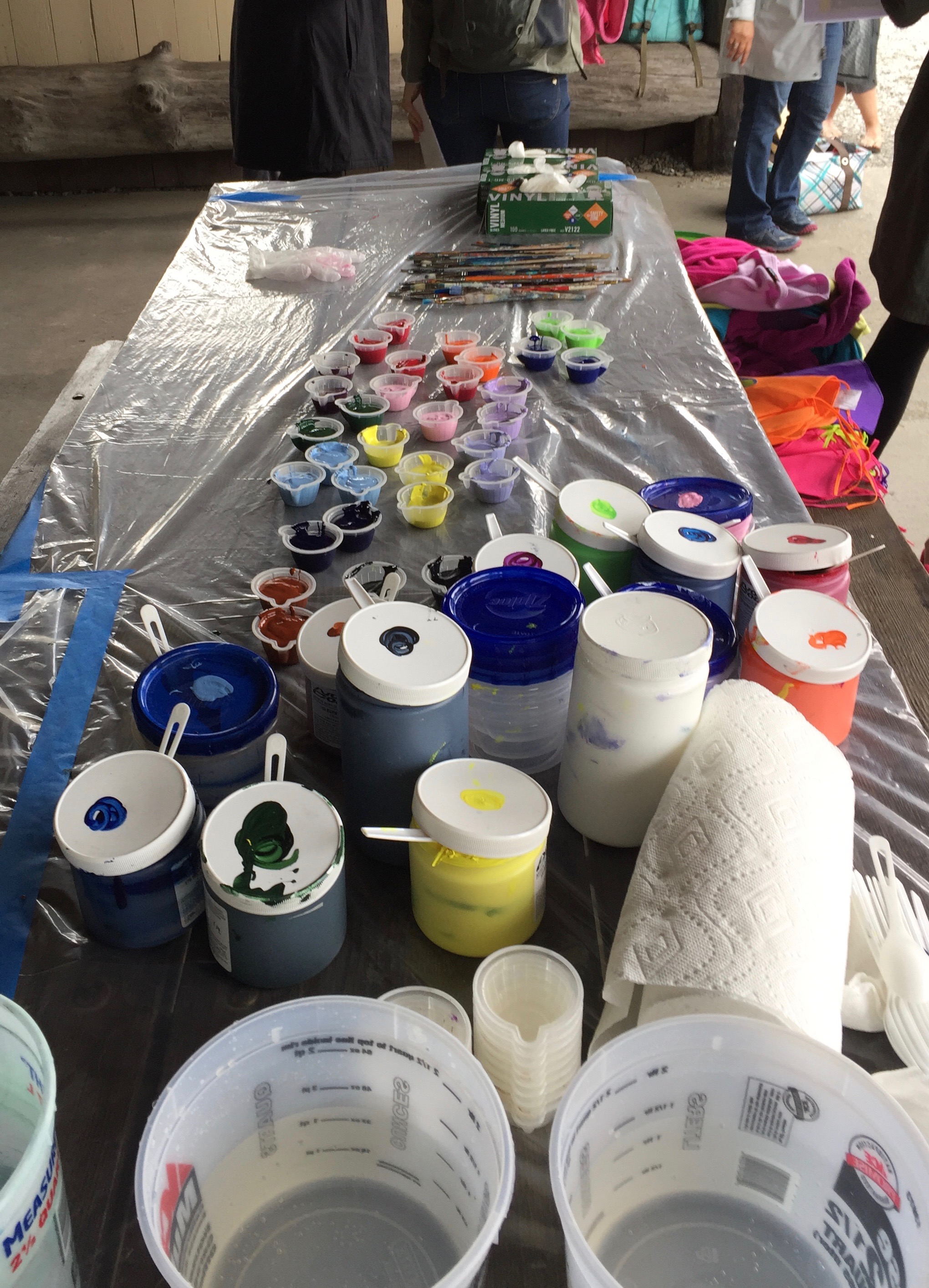 One busy day
In May, students took a field trip to Fay Bainbridge Park. One of their activities on this field trip was to paint the mural panels. With many parent volunteers, we set up the panels inside a shelter so that students could paint.
Groups of 15
Students came to the shelter in groups and spent up to an hour painting the mural drawings they had created. It was amazing to see groups of 15-20 students quietly focused on painting.
As the day progressed, the murals started coming to life.
The Final Four
After the students (and several parents) finished painting, I took the panels home to finish the work and clean up splashes. The result was four colorful, high energy panels that reflect the joy and unique voice of every child in this program.
It was a lovely partnership with the school staff, parents and children. I hope that these panels bring them joy for years to come!
A special thanks to Bainbridge Arts and Humanities for making this project possible through their Artist Residency program.